About LID Permeable Paving Canada
LID Permeable Paving was established to address the increasing focus and ever growing demand for LID (Limited Impact Development)/Permeable paving alternatives.
Permeable paving alternatives are gaining in popularity in order to address and support the reality of Climate Change and our changing weather patterns. Permeable paving further encourages people to manage their storm water where it lands reducing the damaging effects of subsequent flooding in an affordable, effective and efficient manner. LID Permeable Paving Canada is the proud distributor of the renowned Ecoraster permeable paving system that is used world-wide. The Ecoraster system is a heavy duty, high quality permeable paving alternative that is fully sustainable and truly LID. Ellise Gasner, the founder and CEO of LID Permeable Paving Canada, was involved in the grass roots education and promotion of permeable paving and specifically, the Ecoraster system for the past four years in North America. She is excited to see the development and exponential growth of the industry including the start of North American manufacturing of Ecoraster in Ontario, Canada. LID Permeable Paving Canada has grown to include other high quality permeable surfacing options. Ellise is committed to the promotion of green infrastructure and is proud to be doing her part to leave the world a better place for her children and generations to come.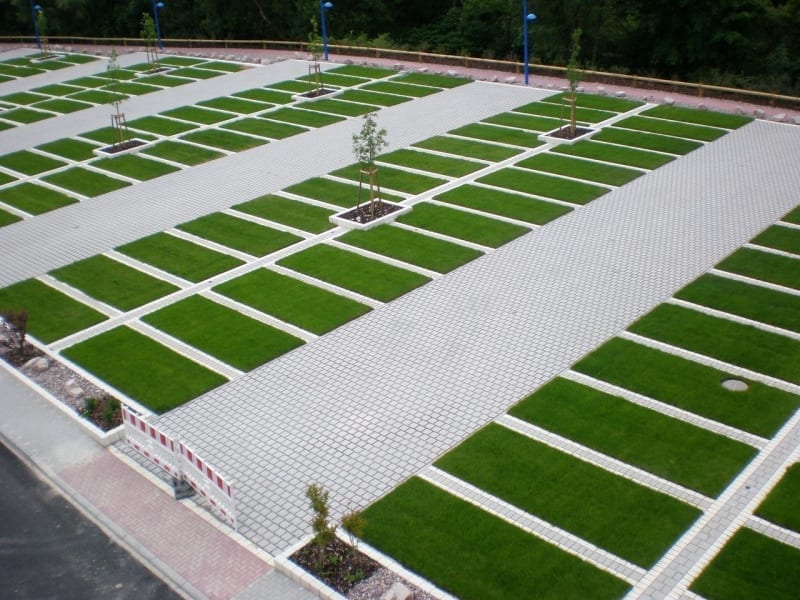 Why Us
You have done the hard part. You have decided that change is necessary and that you are interested in taking the steps to include LID permeable paving alternatives instead of traditional paving surfaces, but where to start?
We are here to help you choose the best permeable surfacing product for your needs. We are the proud distributors of Ecoraster. Ecoraster is the #1 best-selling flexible plastic porous paver in Europe where permeable paving has been the "norm" for almost three decades. The grid system has been used successfully for almost 25 years for a wide range of applications; everything from driveways to parking lots, erosion control to pathways, helicopter landing pads to hot tub pads, tree root protection to fire access lanes and of course, equestrian and agricultural applications.
Ecoraster permeable pavers are specified by both NATO and the British military and can support weight loads of up to 800 tonnes/m2. The grid was designed and engineered in Germany specifically to handle extreme climates, both hot and cold, and frequent snow plowing. The grid system is not only a LID, Low Impact Development, paving alternative, it is also manufactured in a low carbon foot print manner and it is truly permeable with greater than 95% open surface.
Flexible plastic porous pavers are a full circle product; they are comprised of 100% recycled plastic bags which reduces the damaging plastic pollution from our natural waters and landfills and converts them into a permeable paver which allows for effective and efficient management of stormwater where it lands. It ultimately reduces the damaging effects of flooding caused by our changing weather patterns and climate change.
The grid system is fast and easy to install and is the perfect product for transporting to remote locations. It carries a 20 year manufacturer warranty and the customer service from the North American wide distributors is supportive, friendly and helpful.
We are pleased to be able to offer additional permeable surfacing options including pour-in-place rubber surfacing and Pure Pave/Rock Lock depending on project needs and budgetary considerations. The increasing focus on managing stormwater on site has expanded the market for permeable surfaces and we have found partners who provide additional high quality, winter friendly permeable surfaces.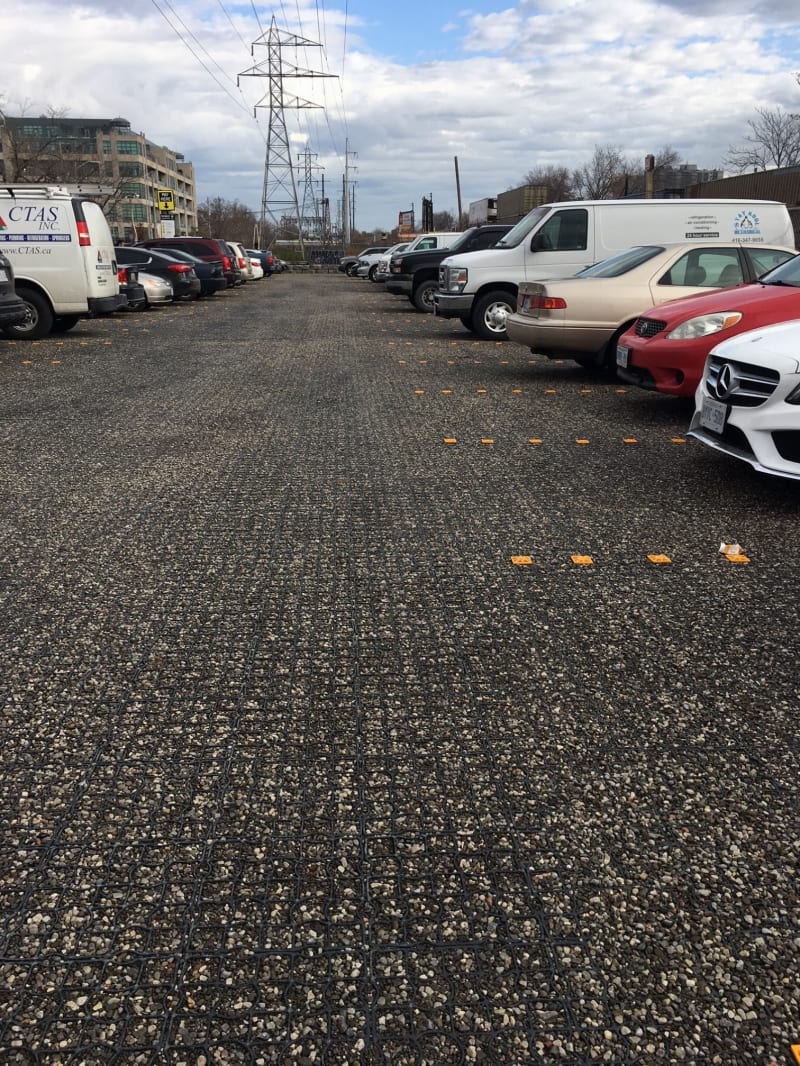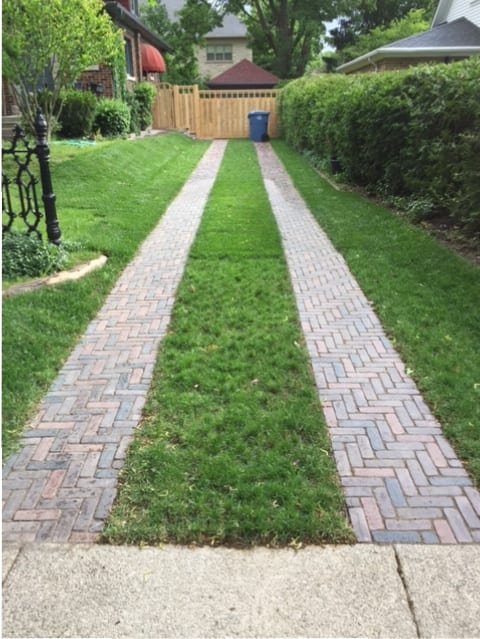 Environmental Impact
There are many environmental concerns that have people looking for LID permeable paving. Climate change is one very important factor. Climate change is real and is an increasingly important concern on a world-wide level. We cannot continue the way we are for so many reasons. Incorporating LID permeable paving will reduce the Heat Island Effect, reducing the earth's temperature in city centres and lessening the impact on the surrounding environment. The rapid growth of city centers has led to more and more of the ground to be sealed either with buildings or paving/driving surfaces. The increasing sealing of the ground and subsequent decrease of natural drainage infrastructure that is found in less populated areas has led to increased flooding and an increase in city temperatures.
Climate change is affecting the weather patterns. Rain events are increasing in frequency and strength leading to damaging and costly flooding. Permeable paving systems ( such as Ecoraster) remove will help minimize the effects of flooding by allowing storm water to be managed where it lands and not over taxing sewer systems that were not designed to handle the increasing water volumes caused by the changing weather patterns. (Ecoraster is an) There are many environmentally friendly paving alternatives available. The Ecoraster grid pavers are ground water neutral and fish toxicity neutral. They can be used in environmentally sensitive areas without any risk to the surrounding areas.
There are many environmentally friendly paving alternatives available. The Ecoraster grid pavers are ground water neutral and fish toxicity neutral. They can be used in environmentally sensitive areas without any risk to the surrounding areas.
Flexible plastic porous paving grids can be used to protect the ground when access is needed in a temporary fashion and then can be removed without damage to the ground and tree roots beneath. The Ecoraster system is 100% recycled and 100% recyclable or reusable. Plastic grid pavers are the perfect product for short term parking or driving and can be removed when done with the land reverting back to natural. Ecoraster is manufactured in a truly LID and sustainable fashion. The manufacturing facility is a green field operation in regards to energy, water and waste.
Ecoraster is made from 100% post-consumer recycled plastic bags. Using this material to manufacture the grid keeps the plastic bags from polluting our natural water bodies and out of our landfills.
Other permeable surfaces offered by LID Permeable Paving Canada include surfaces from recycled tires and rubber and surfaces from natural stone and aggregates.
Permeable surfaces and the Ecoraster has been used successfully with proven results for almost 3 decades throughout Europe, who is far ahead of North America in areas of sustainability and green infrastructure. North Americans are now motivated to follow in their footsteps and do their part to ensure the world is left a better place for our children and the generations to come.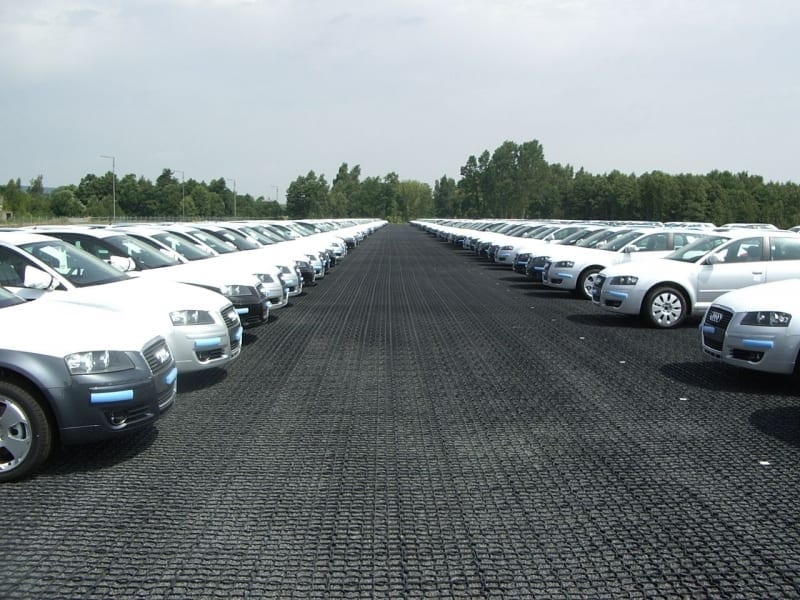 Associated Cost Savings
Cost saving associated with permeable paving include; Infrastructure, Repairs, Maintenance, Salt, Environment and Taxes.
Infrastructure: Using permeable paving surfacing eliminates the need for drainage infrastructure. The cost savings associated with the reduced infrastructure needs are tremendous. Porous surfacing allows storm water to be managed on site, maximizing land use by foregoing the need for storm water ponds.
Repairs: The versatile Ecoraster grids can be easily and seamlessly removed if repairs are needed beneath the surface of the grid.
Maintenance: The maintenance of permeable surfaces depends on the specific surface chosen. Ecoraster is virtually maintenance free. There is no vacuuming needed. There will be no pot holes or cracking. There is no need for resealing. The permanent parking markers eliminate the need for line painting. The grid system carries a manufacturer's warranty for 20 years.
Salt: Customers report using 90% less than their regular salt usage from a solid surface parking area. There is no "melt-freeze" cycle that causes the well-known reasons for salting and brining of solid surfaces.
Environment: Savings to the environment are listed above.
Taxes: Storm water taxes are becoming the norm throughout North America. There are tax incentives and reductions available when permeable alternatives are used.
These saving are very important especially for large land owners.